One of the most practical means of providing privacy, light control and prevention of cross-contamination our curved curtain track products has seen action in many applications, industries and situations. Built to last and an absolute necessity, the corner curtain track allows curtains to create an effective barrier against the spread of the deadly virus. American Track Supply is a premier provider of flexible curtain track products for many businesses, industries and medical facilities. We have worked with many top companies in the US and have partnered with small and large hospitals to supply them with our curved curtain tracks for use in the frontlines.
Our parent company, American Drapery Systems, Inc. has over 40 years of experience offering commercial window coverings, draperies, cubicle curtains, curtain track and hardware. With that wealth of experience to call upon, we are able to fabricate and offer our commercial flexible curtain track products to suit any application you require. If light control and privacy is what you need, don't hesitate to give us a call. We are ready to work with you in order to provide the best solution to suit your needs.
Why Choose American Track Supply Industrial Curved Curtain Track Products
Track Types
Our commercial flexible curtain track comes in standard, medium and heavy duty variants.  The choice of track will depend on the weight of your curtains you want to hang it from.  Moreover, there are also other factors as well that are involved including the kind of mechanism used to operate the curtains, the application for the track and the size and shape of the space.
Standard Curved Curtain Track
Made usually from aluminum it can be used on small stages and in venues such as community and civic halls, churches and crematoriums. It is perfect for use with window curtains, blackout curtains in schools and universities.
Medium/Heavy Duty Tracks
These are used in specialized areas where the curtains require a substantial load bearing capacity. Our flexible curtain track is perfect for high-traffic areas where there is a constant need to open and close curtains. They can withstand the weight of heavy drapery such as in theaters and warehouses where necessary light control and privacy is needed.
Applications
The applications for our flexible curtain track are varied. They provide a versatile light control and privacy solution for both residential and commercial applications. They serve as appropriate for drapery and curtain applications in residential settings, hotels, boats and photography studios. They are widely used in theaters, high-rise curved curtain wails and cubical dividers in examination rooms in hospitals and other medical facilities. They are also used for shower curtains as well. To know what tracks we offer is the most suitable for your industry or application, give us a call and our expert in-house staff can provide you will all the necessary information you need.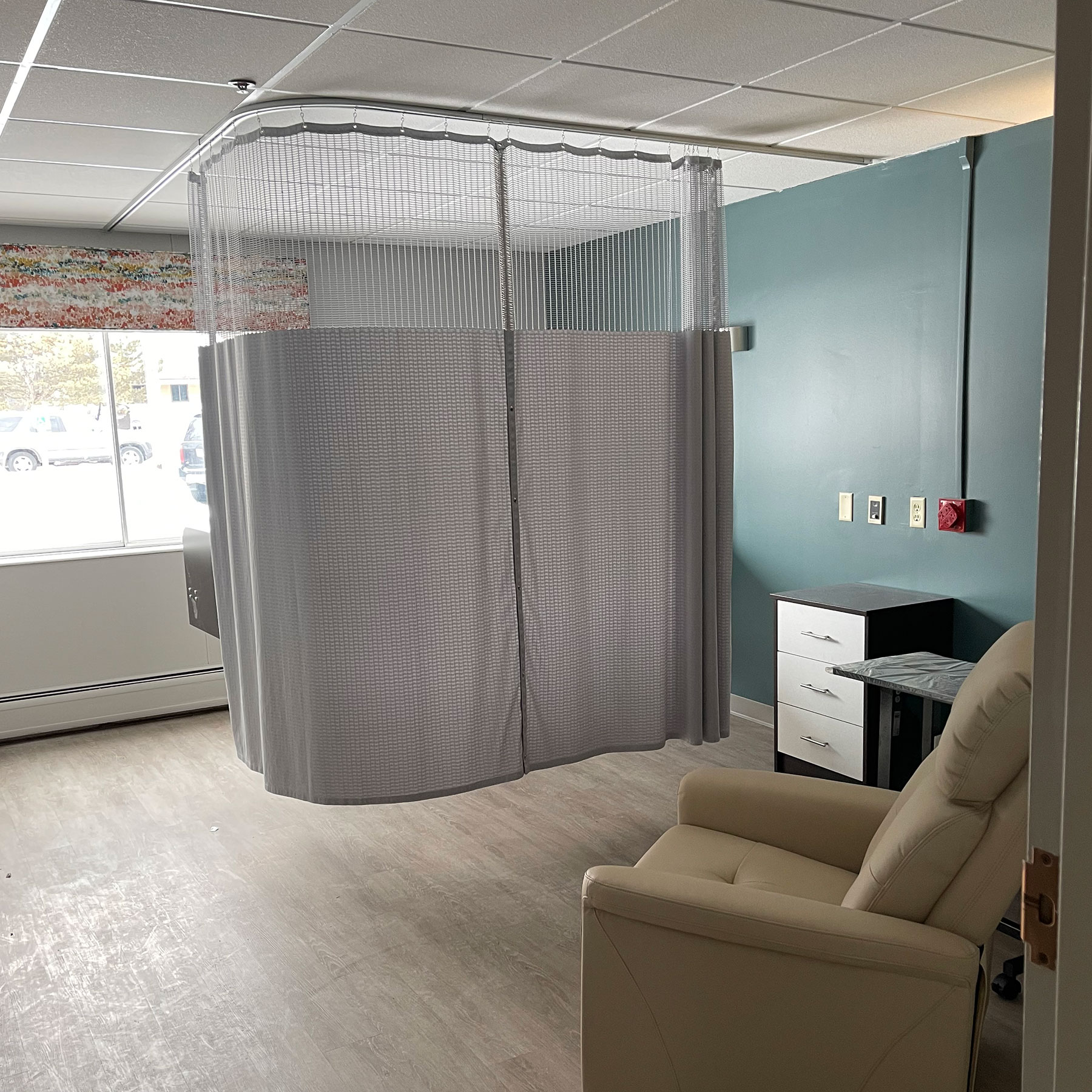 Super Flexible Corner and Curved Curtain Track
Our curved curtain track have embedded metal plates that provide superior flexibility and can bend 90 degrees or greater without needing to splice so that the sliders can move freely with no interruption.  The diameter of a circular standard track can be as small as 12".
Can Run Straight & Curved
Many might think that our curved curtain track products are only good for curved applications. This is not necessarily true. The good news is our American Track Supply flexible curtain track lives up to its name: It can be used for straight run applications.  We do recommend installing mounting hardware at 9" interval with appropriate spacing to make it look better.  It is important though to line up all the mounting hardware as the slightest off set can result in a wavy track setup.  If you need help setting this up, give us a call so we can advise and assist you in installation.  We are more than happy to help you.
Parts Required
We do recommend 4 rollers per foot of curtain track in order to prevent the curtains from sagging.  For flexible curtain track mounting hardware it is recommended to use one per foot for curved track, and 9" interval for straight run applications.  If you have a wall or ceiling that is sharply curved all you need to do is add supplemental mounting hardware at point of turns.  30'-36" are needed for aluminum flexible curtain track.